AllaQuix® offers dermatologists a state-of-the-art hemostatic gauze for in-clinic procedures when minor bleeds may occur, such as Moh's surgery, mole removal, wart removal, and more. Discover how AllaQuix® is becoming a go-to alternative to cauterization and other traditional methods of controlling minor bleeding.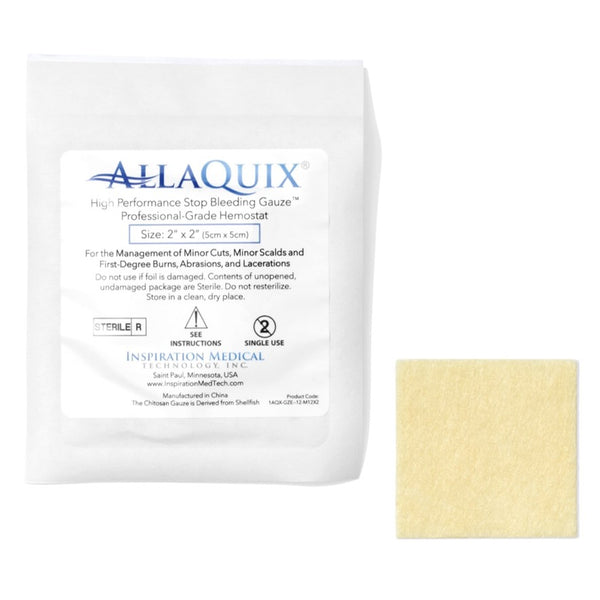 Benefits for Dermatologists
Efficiency in Moh's Surgery: No more relying solely on cauterization; AllaQuix® provides quick hemostasis for minor bleeding.

Patient Safety: An ideal wound dressing choice for patients on blood thinners or anti-coagulation therapies like Coumadin.

Alternatives to Cauterization: AllaQuix® offers non-invasive, effective bleeding control options.
 Get AllaQuix® For Your Clinic Today!
New Products for Dermatologists
AllaQuix® is not just another gauze; it's a professional-grade hemostatic solution. From Moh's surgery to wart removal, this could be the future in dermatology and wound care.
Recent Advances in Dermatology: The Role of Chitosan
Chitosan has shown rapid control of bleeding, bacteriostatic activity and wound healing properties. As suppliers of dermatology supplies/products, we provide chitosan-based AllaQuix® as part of the latest advances in dermatology, wound care, and bleeding control.
Wound Dressing for Patients on Anti-Coagulation Therapy
Chitosan is safe and effective for patients on blood thinners like Coumadin. Its unique properties make it ideal for various dermatological procedures, including Moh's surgery, mole removal, and wart removal.
 Get AllaQuix® For Your Clinic Today!
AllaQuix® has been reviewed and cleared by FDA for OTC (over-the-counter) use in the management of minor cuts, minor scalds and first degree burns, abrasions, and lacerations.